One of the things that ALWAYS hits my New Year's Resolution list is to be more organized! Now many people that know me, think I am already there, that I am already UBER organized. And although I have MANY organizational systems at work in my home. They tend to get out of whack when I am short on time. Instead of using the system I just toss things in & say I will deal with it later! Well around the holidays, short on time is a understatement, and many of my systems are out of whack or need a tune up. Also my house is full of so much stuff I don't need right now so I will be decrapifying it as well!
So to start off my organization & decrapification I am joining "A Bowl full of Lemons" organization challenge. Starting January 1st, 2011 she will be blogging tips & challenges. One per day for the full month of January. I plan on taking her challenge and hopefully you will too! I will post about my progress as the month goes on & hopefully by the end of the month....we will ALL be more organized! Go check it out!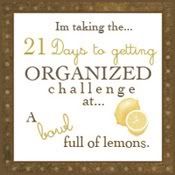 I also wanted to let all my readers know that I will be starting a new job after the New Year as well. I know, I FINALLY got a job!
I hope to continue to keep up with my blogging but if I become a blogger slacker, you will know why! :)