I am taking "A Bowl Full of Lemons" 21 day Organization Challenge. Check it out here.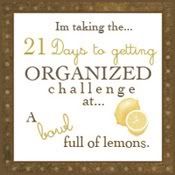 Our first challenge or Day #1 is the Junk Drawer!
Here is mine BEFORE I started: YIKES!!!
I started by clearing all the "junk" out of my drawer. I also wiped it down.
Here it is after I purged & sorted everything.
Most of my containers & organizing trays in here I have either gotten at the Dollar Tree or have been collecting from our local Thrift Stores. I didn't buy a single one for this project, I used what I had on hand! Even better!!!!
Can you believe it only took me about 12 minutes
to complete this project!!!
I removed all the tools I had in my drawer as I received this...MY VERY OWN tool kit for Christmas, which I

LOVE

!
*I haven't found a spot for it yet (it didn't fit in this drawer which is where I intended to put it), but throughout this challenge I hope to find the perfect spot for it!!!
I heart that my tools are

PURPLE

!!!
So there you have it!
Thanks Toni for hosting this 21 day challenge!
I am so excited to start my New Years organized!!!
I am linking up to these FABULOUS Parties: