This is a table that has been handed down for 3 generations in my family. It was my Great Grandma Edna's, then my Grandma Sally's & now mine. It was in pretty tough shape, the finish was wearing, and it was quite wobbly. But even with all her flaws, she is still a beauty! And very sentimental to me.
I started with a little wood glue to make the legs more
stable & not wobbly anymore.
Then I gave her a good ole sanding.
Next I then gave her a good coat of
Rustoleum's Ultra Cover Primer.
The color I choose to go was AQUA!
I used Krylon Blue Ocean Breeze as my color.
Lastly I applied a Glaze to really accentuate all her beautiful details. I mixed some glaze with some black paint. I followed the directions from
All Things Thrifty GLAZING 101
tutorial.
Go
here
for full instructions!
Here's my heirloom beauty now!
Now....where to put it??? :)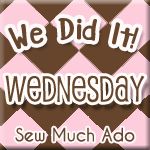 http://primitiveandproper.blogspot.com/2010/09/piece-of-work-wednesday-link-party_28.html